I `m participating with four works in

HEY! modern art & pop culture / Act III

a great show in the Museum

La Halle Saint Pierre
, in Paris, it will last six months and is amazing. Here are the details and some pictures:
Halle Saint Pierre
2, rue Ronsard – 75018 Paris
Métro : Anvers/Abbesses
Ouvert

tous les jours : en semaine de 11h à 18h
samedi de 11h à 19h /
dimanche de 12h à 18h
Open Monday-Friday : 11:00 am/18:00 pm
Saturday 11:00 am/19:00 pm – Sunday 12:00 am/18 pm
MUSÉE D'ART BRUT ET D'ART SINGULIER
Au sein d'une belle architecture de style Baltard, tournée vers les jardins de la Butte Montmartre, la Halle Saint Pierre abrite un musée et une galerie, une librairie, un auditorium, un café. C'est dans ce cadre harmonieux et lumineux que sont présentées les grandes expositions temporaires et les multiples activités artistiques et culturelles dédiées aux formes les plus inattendues de la création.
La Halle Saint Pierre
presents
HEY! modern art & pop culture / Act III


18/09/15 — 13/03/16
ABOUT
HEY! modern art & pop culture / ACT III
62 international artists
_________________________________________________________________________
HEY! modern art & pop culture, an art magazine founded in 2010 by Anne & Julien, is back at La Halle Saint Pierre after the resounding success of its two previous editions in 2011 and 2013. This third edition,

HEY! modern art & pop culture / Act III

, will go further in its exploration and diffusion of various countercultural artistic media: Lowbrow Art, outsider art, comics and more generally any artistic vector of street culture.
Awash with first ever (Gabriel Grun, Thomas Woodruff, Ed Hardy) as well as exceptional guests (Marion Peck), the exhibition will also unveil previously unseen works by Joël Negri, Albert Sallé and Alain Bourbonnais from la Fabuloserie, an emblematic, offbeat art venue in France. For the first time in Europe works by Mark Ryden, tutelary figure of Pop Surrealism, will be on show at La Halle Saint Pierre.
This scene that Anne & Julien have been supporting for a number of years is vibrant, diverse and complex : its numerous trends and territories, ranging from its most radical manifestations such as Art Brut to the more sophisticated forms of Pop Surrealism, ensure its incontrovertible place in contemporary art history.
For Anne & Julien all the worth and modernity of this scene stem from these very characteristics. The two art activists are committed to defending it through their review, performances and exhibitions.They have been instrumental in putting a spotlight on idiosyncratic visual worlds whose common denominator is their sheer resistance through imagination: resistance to norms, to categorisations, institutionalization and fashion diktats. They are both the promoters and historians of a marginal, underground, alternative art scene.
For La Halle Saint Pierre, to be involved in such an adventure makes perfect sense : art history has always experienced upheavals and paradigm shifts. Echoing the current geopolitical, cultural watershed the world is facing, the art world is also going through a period of crisis and dramatic change. The HEY! modern art & pop culture trilogy is the perfect illustration of this.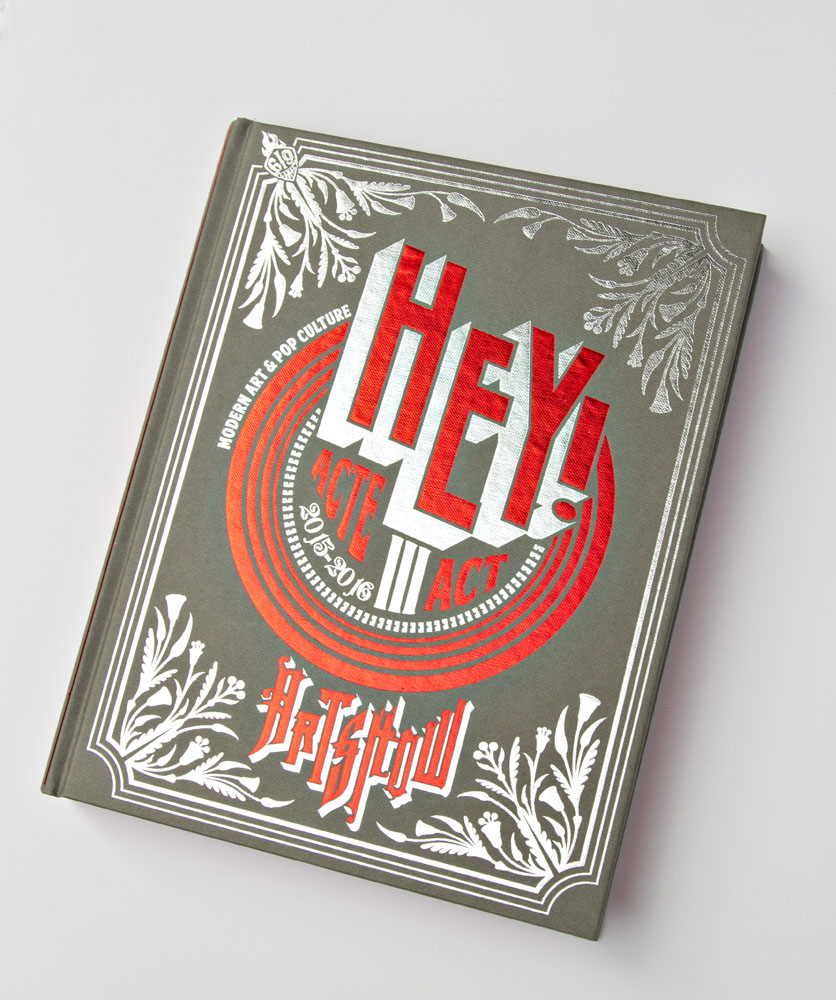 Catalogue
340 pages.
Format 22 x 28 cm. Livre relié, cousu, couverture toilée, impression sérigraphie, tranche fil.
Editions Ankama /619
Vendu à la librairie de la Halle Saint Pierre
avec le sac en toile Hey! : prix 39,90 €.
The works present in the exhibition: